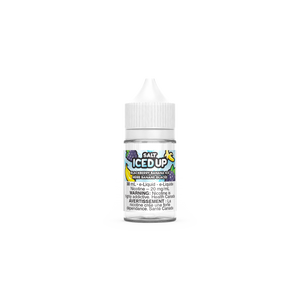 BLACKBERRY BANANA ICE BY ICED UP SALT
BLACKBERRY BANANA ICE BY ICED UP SALT
Indulge in a frosty fusion that will awaken your taste buds like never before with BLACKBERRY BANANA ICE BY ICED UP SALT! Dive into the luscious depths of ripe blackberries, where each inhale unveils a burst of sweet and tangy goodness. The exotic allure of sun-kissed bananas dances across your taste buds, adding a creamy and tropical twist that's simply irresistible. But that's not all – a refreshing gust of arctic ice sweeps in, creating an exhilarating chill that leaves you invigorated!

Whether you're chasing clouds or seeking an all-day vape, this e-liquid masterpiece is a tantalizing treat that marries fruity goodness with an invigorating frosty twist. Elevate your vaping experience to new heights with ICED UP; where fruity fusion meets icy delight.

Flavour Notes:
ICED UP Salt is NOT intended for use in Sub-Ohm Tank systems. ICED UP Salt E-Liquid is intended for small pod systems. 
50% VG 50% PG
---
We Also Recommend
---