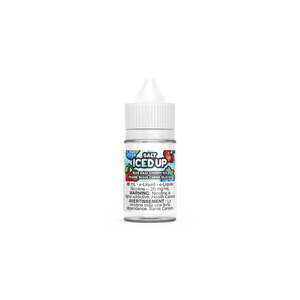 BLUE RAZZ CHERRY ICE BY ICED UP SALT
BLUE RAZZ CHERRY ICE BY ICED UP SALT
Prepare your taste buds for an electrifying symphony of flavours with BLUE RAZZ CHERRY ICE BY ICED UP SALT! Immerse yourself in the captivating fusion of bold blue raspberries and succulent cherries, each puff unleashing a wave of sweet and tangy ecstasy. As you vape, a thrilling gust of arctic ice sweeps in, enveloping your senses in an exhilarating frost that's both invigorating and irresistible.

If you're seeking an all-day vape flavour, or looking for a little fruity refreshment, ICED UP has the perfect e-liquid selection for you! Elevate your vape game with BLUE RAZZ CHERRY ICE BY ICED UP SALT – where fruity fusion meets subzero satisfaction!

Flavour Notes:
Blue Raspberry
Cherry

Ice
ICED UP Salt is NOT intended for use in Sub-Ohm Tank systems. ICED UP Salt E-Liquid is intended for small pod systems. 
50% VG 50% PG
---
We Also Recommend
---