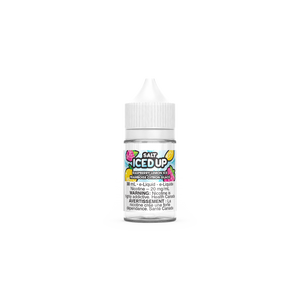 RASPBERRY LEMON ICE BY ICED UP SALT
RASPBERRY LEMON ICE BY ICED UP SALT
Unlock a world of pure vaping exhilaration with RASPBERRY LEMON ICE BY ICED UP SALT! Dive into the tangy embrace of ripe raspberries, intertwined with zesty lemon notes that awaken your senses with each inhale. A cascade of arctic ice sweeps over, delivering an icy blast that's as invigorating as it is irresistible. Let the dance of flavors take you on a tantalizing journey, where the fusion of sweet, tart, and frosty creates an unparalleled vape experience.

If you're looking for fruity refreshment from your e-liquid, look no further! ICED UP has the perfect flavour selection for you! Elevate your senses with RASPBERRY LEMON ICE BY ICED UP SALT – where every puff is a symphony of frozen perfection!

Flavour Notes:
ICED UP Salt is NOT intended for use in Sub-Ohm Tank systems. ICED UP Salt E-Liquid is intended for small pod systems. 
50% VG 50% PG
---
We Also Recommend
---