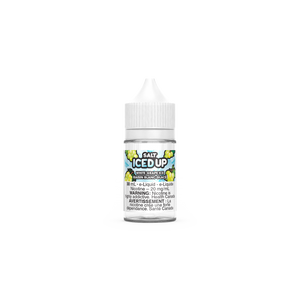 WHITE GRAPE ICE BY ICED UP SALT
WHITE GRAPE ICE BY ICED UP SALT
Embark on a journey to frozen vineyards with WHITE GRAPE ICE BY ICED UP SALT! Succulent white grapes take center stage, their juiciness captured in every cloud you exhale. As you indulge, a rush of arctic ice sweeps over, delivering an invigorating chill that perfectly complements the grape's natural sweetness. It's a symphony of sophistication and frost, a dance of flavours that leaves an unforgettable impression.

If you're seeking fruity refreshment from your e-liquid, look no further! ICED UP has the perfect flavour selection for you! Elevate your senses with the luxurious allure of WHITE GRAPE ICE BY ICED UP SALT – where every inhale is a brushstroke of icy indulgence on your palate!

Flavour Notes:
ICED UP Salt is NOT intended for use in Sub-Ohm Tank systems. ICED UP Salt E-Liquid is intended for small pod systems. 
50% VG 50% PG
---
We Also Recommend
---