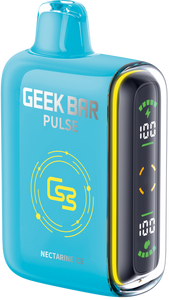 GEEK BAR PULSE DISPOSABLE - NECTARINE ICE
GEEK BAR PULSE DISPOSABLE - NECTARINE ICE
NECTARINE ICE: A delightful fusion of juicy nectarines with a refreshing, chilling icy undertone.
Introducing the GEEK BAR PULSE Disposable, a compact yet high-performance disposable vape device capable of delivering up to 9000 puffs, thanks to its generous 16 mL e-liquid capacity. This innovative disposable vape boasts a range of features, including a full-sized LED screen, adjustable airflow, dual-mesh coils, and a Boost Mode to supercharge your vaping experience.

Equipped with a substantial 650 mAh battery, the GEEK BAR PULSE is easily rechargeable via USB Type-C, making it convenient for on-the-go use. Keeping track of your e-liquid and battery levels is a breeze, thanks to the large and user-friendly LED indicator icons displayed on-screen. Even when your battery is running low, the dual mesh coils ensure consistent performance, vapour production, and flavour quality.

For an even more exhilarating experience, simply slide the toggle-switch located on the underside of the GEEK BAR PULSE to activate Boost Mode, which guarantees enhanced airflow, dense vapour, and rich flavour. Experience the perfect blend of portability, performance, and customizable features in the GEEK BAR PULSE, your ultimate vaping companion-available in 15 unique flavours to suit your tastes!
Flavour Notes:
Specifications:
Up to 9000 puffs

Boost Mode For Enhanced Airflow, Vapour And Flavour

LED Screen with E-Liquid and Battery indicators

Rechargeable

Dual Mesh Coil

Available in 15 flavours

16 mL of E-Liquid

20mg/mL

650 mAh Internal Battery
---
We Also Recommend
---