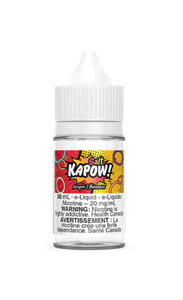 LOOPER BY KAPOW SALT
LOOPER BY KAPOW SALT
Embark on a nostalgic flavour adventure with LOOPER by KAPOW SALT E-liquid, a mouthwatering fusion of fruity cereal and creamy milk meticulously crafted from the finest premium ingredients.

Immerse your taste buds in the perfect harmony of flavours, delivering a vaping experience that's velvety smooth and utterly satisfying. Let each inhale transport you back to the comforting embrace of fruity cereal, reimagined in an e-liquid that's sure to delight. Elevate your vaping game with LOOPER BY KAPOW SALT and rediscover the joy of this classic combination with every puff.
Flavour Notes:
Kapow Salt is NOT intended for use in Sub-Ohm Tank systems. Kapow Salt E-Liquid is intended for small pod systems. 
50% VG 50% PG
---
We Also Recommend
---