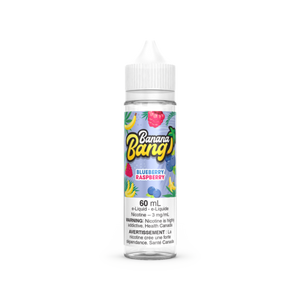 BLUEBERRY RASPBERRY BY BANANA BANG
BLUEBERRY RASPBERRY BY BANANA BANG
Introducing BLUEBERRY RASPBERRY BY BANANA BANG e-liquids, a mouthwatering blend of sweet and tangy blueberries and raspberries. The blueberries provide a burst of sweetness while the raspberries add a hint of tartness that balance the flavor perfectly.
The unique addition of Banana Bang's signature banana flavor gives a subtle creamy undertone. This e-liquid is perfect for those who want to enjoy a fruity vaping experience. This e-juice is available in various nicotine strength options.
It's perfect for an all-day vape, and a must-try for fruit lovers.
Flavour Notes:
Blueberry
Raspberry
Banana
70% VG 30% PG
---
We Also Recommend
---