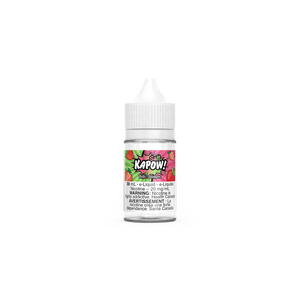 BELTS BY KAPOW SALT
BELTS BY KAPOW SALT
Indulge in the scrumptious taste of our e-liquid that will satisfy your cravings for a fruity and sweet flavor. Belts by Kapow features a mouth-watering blend of chewy, succulent strawberries that will leave you wanting more. But that's not all - added is a delightful twist to this classic flavour by infusing it with a tangy and zesty sour finish.
This unique combination of sweet and sour notes creates a taste that is both refreshing and addictive. This e-liquid is made with high-quality ingredients to ensure that every puff delivers a smooth and satisfying vaping experience. So go ahead and treat yourself to the deliciously irresistible taste of our strawberry e-liquid with a sour kick.
Flavour Notes:
Kapow Salt is NOT intended for use in Sub-Ohm Tank systems. Kapow Salt E-Liquid is intended for small pod systems. 
50% VG 50% PG
---
We Also Recommend
---