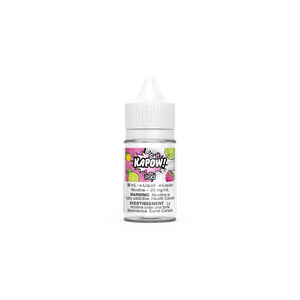 PIX BY KAPOW SALT
PIX BY KAPOW SALT
Looking for an e-liquid that will take your taste buds on a journey beyond the rainbow? Look no further than PIX BY KAPOW - a blast of sour citrus rainbow goodness that is sure to satisfy your cravings for something tart and tangy!
Crafted using only the finest ingredients, our e-liquid is a premium vaping experience that you won't find anywhere else. The sour citrus flavour is perfectly balanced, creating a deliciously refreshing vaping experience that will leave you coming back for more.
But what really sets this e-liquid apart is the way it soars beyond the rainbow, taking your taste buds on a journey to new and exciting places. It's the perfect way to break out of your typical vaping routine and experience something truly special.
Imagine the sensation of biting into a juicy, tart citrus fruit, with all of its vibrant colors and flavours dancing on your tongue. That's exactly what you can expect from PIX BY KAPOW - a burst of flavour that will leave you feeling refreshed and invigorated.
So why settle for boring e-liquids when you can experience the exhilarating flavors of PIX BY KAPOW? Give it a try today and let your taste buds soar beyond the rainbow!
Flavour Notes:

Sour Citrus Rainbow Candy
Kapow Salt is NOT intended for use in Sub-Ohm Tank systems. Kapow Salt E-Liquid is intended for small pod systems. 
50% VG 50% PG
---
We Also Recommend
---