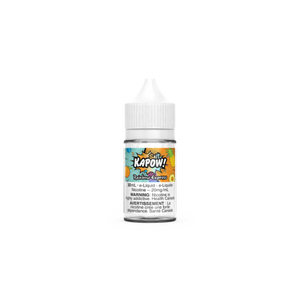 RAINBOW EXPRESS BY KAPOW SALT
RAINBOW EXPRESS BY KAPOW SALT
Looking for an e-liquid that will take you on a tropical flavor adventure reminiscent of your favorite frozen rainbow delicacy? Look no further than RAINBOW EXPRESS BY KAPOW - a tantalizing vape juice that is sure to transport your taste buds to a tropical paradise!
Crafted using only the highest quality ingredients, RAINBOW EXPRESS BY KAPOW is a premium vaping experience that you won't find anywhere else. The tropical flavour adventure begins with a cool exhale, swirled up with a splash of raspberry, pineapple, orange, lime, and a touch of cream, creating the perfect zap of flavour.
But what really sets this e-liquid apart is the way it captures the essence of a frozen rainbow delicacy, bringing to life the vibrant flavours of a tropical paradise. It's like taking a sip of a fruity cocktail on a warm, sunny beach, with the waves crashing in the background and the sun shining down on your face.
Imagine the sensation of biting into a juicy pineapple, with its sweet and tangy flavour bursting on your tongue. Or the zesty tang of a freshly squeezed lime, blended perfectly with the sweet goodness of raspberry and orange. That's exactly what you can expect from our tropical flavor adventure e-liquid - a burst of deliciously refreshing flavours that will leave you feeling like you're on vacation.
So why settle for boring e-liquids when you can experience RAINBOW EXPRESS BY KAPOW? Give it a try today and let your taste buds embark on a journey to a tropical paradise!
Flavour Notes:

Raspberry
Pineapple
Orange
Lime
Hint Of Cream
Hint Of Ice
Kapow Salt is NOT intended for use in Sub-Ohm Tank systems. Kapow Salt E-Liquid is intended for small pod systems. 
50% VG 50% PG
---
We Also Recommend
---