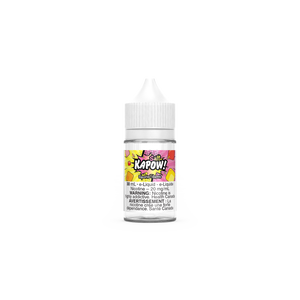 SQUARES BY KAPOW SALT
SQUARES BY KAPOW SALT
Introducing SQUARES BY KAPOW - the ultimate vape juice for watermelon lovers! SQUARES BY KAPOW captures the juicy goodness of ripe watermelon, blended with a touch of sweetness and a hint of mystery that will keep you coming back for more.
Crafted using only the finest ingredients, SQUARES BY KAPOW delivers a premium vaping experience that is sure to satisfy even the most discerning taste buds. Each puff is a burst of sweet and juicy watermelon flavour, with a subtle undertone that adds an air of intrigue to the mix.
But what sets SQUARES BY KAPOW apart is its ability to capture the essence of fresh watermelon, delivering a vaping experience that is as close to the real thing as you can get. Imagine biting into a juicy slice of watermelon, with its sweet and refreshing flavour bursting on your tongue. That's exactly what you can expect from SQUARES BY KAPOW - a truly authentic watermelon experience.
And if you're a fan of mystery, you'll love the subtle hints of something else that linger in the background. It's a flavour that's hard to put your finger on, but adds a unique twist to the overall experience.
So why settle for boring e-liquids when you can experience the ultimate watermelon vaping experience with SQUARES BY KAPOW? Give it a try today and discover the sweet and mysterious world of watermelon squares!
Flavour Notes:
Kapow Salt is NOT intended for use in Sub-Ohm Tank systems. Kapow Salt E-Liquid is intended for small pod systems. 
50% VG 50% PG
---
We Also Recommend
---