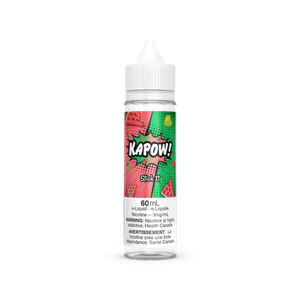 STICK IT BY KAPOW
STICK IT BY KAPOW
Get ready to experience a flavour explosion with STICK IT BY KAPOW! This unique e-liquid blend combines the sweet and juicy flavours of watermelon and strawberry with a chewy, bubbly, and poppin' sensation that will have you coming back for more.
Unlike the sticky mess you might find under your desk, Stick It will stick to your taste buds in the best possible way. The watermelon and strawberry flavours are perfectly blended to create a taste that is both refreshing and satisfying, with a chewy texture that adds a whole new level of enjoyment to your vaping experience.
But don't just take our word for it - STICK IT BY KAPOW is a flavour that speaks for itself. With its unique combination of flavours and textures, this e-liquid is sure to slam your taste buds and leave you craving more. The poppin' sensation adds an extra level of excitement to each hit, creating a vaping experience that is truly one-of-a-kind.
Crafted with only the highest-quality ingredients, STICK IT BY KAPOW is an e-liquid that delivers on both taste and satisfaction. With its unique flavour profile and satisfying vapor production, STICK IT BY KAPOW is the perfect choice for anyone looking for a new and exciting vaping experience.
So if you're looking for a sweet and juicy flavour that will stick with you long after you've finished vaping, give STICK IT BY KAPOW a try. With its chewy, bubbly, and poppin' blend of watermelon and strawberry flavours, this e-liquid is sure to become your new favorite.
Flavour Notes:
Watermelon
Strawberry
Bubble Gum 
70% VG 30% PG
---
We Also Recommend
---