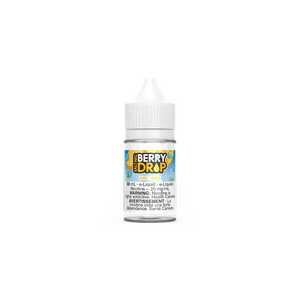 MANGO BY BERRY DROP SALT
MANGO BY BERRY DROP SALT
Indulge in the exotic allure of MANGO BY BERRY DROP SALT e-liquids – a tantalizing fusion of luscious mango and Berry Drop's signature blue raspberry tang! Prepare your taste buds for a tropical symphony that's nothing short of extraordinary. With each puff, you'll be whisked away to a paradise where the sweet, tropical embrace of mango meets the electric vibrancy of blue raspberry. It's a vaping experience that's as satisfying as it is unforgettable. Don't miss your chance to embark on this flavour-filled journey with MANGO BY BERRY DROP.
Available in a full range of nicotine concentrations, this e-liquid makes the perfect all-day vape for those who adore classic fruit flavours or for vapers seeking a new and bold flavour experience!

Flavour Notes:
BERRY DROP Salt is NOT intended for use in Sub-Ohm Tank systems. BERRY DROP Salt E-Liquid is intended for small pod systems. 
50% VG 50% PG
---
We Also Recommend
---